With over 500million daily active users, it's no surprise that Instagram regularly keeps us on our toes with the frequent rollout of new features from the platform. It wasn't so long ago we were discussing how powerful the release of link stickers for all users was (particularly for small businesses), but we're now hearing of Instagram's latest feature that's currently being tested. Our new Senior Paid Social Manager, Danielle, shares what we know so far…
What's the feature?
Ever posted a pic, looked back at your profile and thought 'urgh it's spoiled my grid!' so got rid - despite it being a great shot? Yup, been there. Well you'll be pleased to know Instagram are actually testing an 'edit grid' feature that enables you to shuffle the order of the posts that are displayed on your profile, regardless of the date they were originally posted.
IG are noticeably a lot more experimental with their feed these days, so it will be interesting to see if they go ahead with this one…there's a chance it will never see the light of day but I'm personally hopeful this one will be released in the near future! The feature is set to be as simple as you'd expect to use too, with drag and drop ability.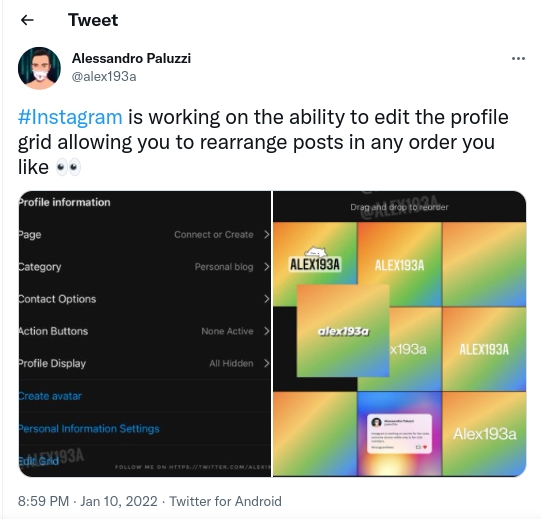 What does this mean for brands?
There's a lot of benefits to brands being able to shuffle their grid. The feature would give them control over what they're putting in front of their customers, and they'd be able to switch it up on the regular - With the ever changing landscape of social platforms and their algorithms, brands will always welcome taking back whatever control they can. Whether it's a featured product, sale promotion or limited free delivery offer, a quick edit of the grid and you're good to go!

What do you think? Is it a feature you'd make use of… connect with me on LinkedIn here and let me know your thoughts!