In the complex times that we live in as the world continues to recover from the
pandemic, it's more important than ever for retailers to be reactive whilst also planning
ahead where possible to keep pace with consumers changing needs.
From back-to-school, Amazon Prime Day, Singles' Day and everything in between, our UK Seasonal Marketing Calendar outlines the key dates throughout the year that your marketing strategy needs to consider.




Skip to the quarter you're interested in using the links below:
Q3 - Back to School
Q4 - Peak Season
Q1 - January Sales
Q2 - Ramadan & Summer Bank Holidays
Q3 - July - September



Key Takeaways


Key dates to focus on for Q3 are July's Amazon Prime Day and the Back to School period as a whole between August and September.
Insights
According to a Kantar and Amazon Ads study, 71% of shoppers learn about new brands leading up to Prime Day, and 75% of shoppers are likely to purchase a product during Prime Day that they discovered during the lead-up to the event. Given the excitement around Prime Day, the event can be an excellent chance for your brand to connect with highly engaged new and existing customers.


However, the event isn't just for those advertising or selling directly on Amazon. The Amazon Prime Halo effect has the ability to increase customers' intent to purchase leading to an average 14% uplift in CvR for European retailers in 2021 according to a study by Criteo.


Google estimates that in 2023, 62% of consumers plan to compare prices across multiple websites.



Google reports that "the number of people saying they used supermarkets and clothing stores for back-to-school purchases decreased by 9% and 13% in 2021, as more consumers switched to online retailers and discount outlets."

Search interest for 'school uniforms' increased by 35% in 2021 vs 2019 after the pandemic drove users online.
Tips
Complete a full audit of your shopping feeds to ensure they are meeting best practice for maximum visibility for your budget.


To entice customers during Prime Day, offer exclusive incentives for those who engage with your paid marketing campaigns.


For example, creating unique discount codes, limited-time offers, or bundled deals that are only available to users who click on your PPC or paid social ads. This strategy not only drives immediate sales but also helps in tracking the effectiveness of your paid marketing efforts.



Add the 'Back to School' in Market audience to your campaigns and asset groups to ensure you reach your target market.
Q4 - October - December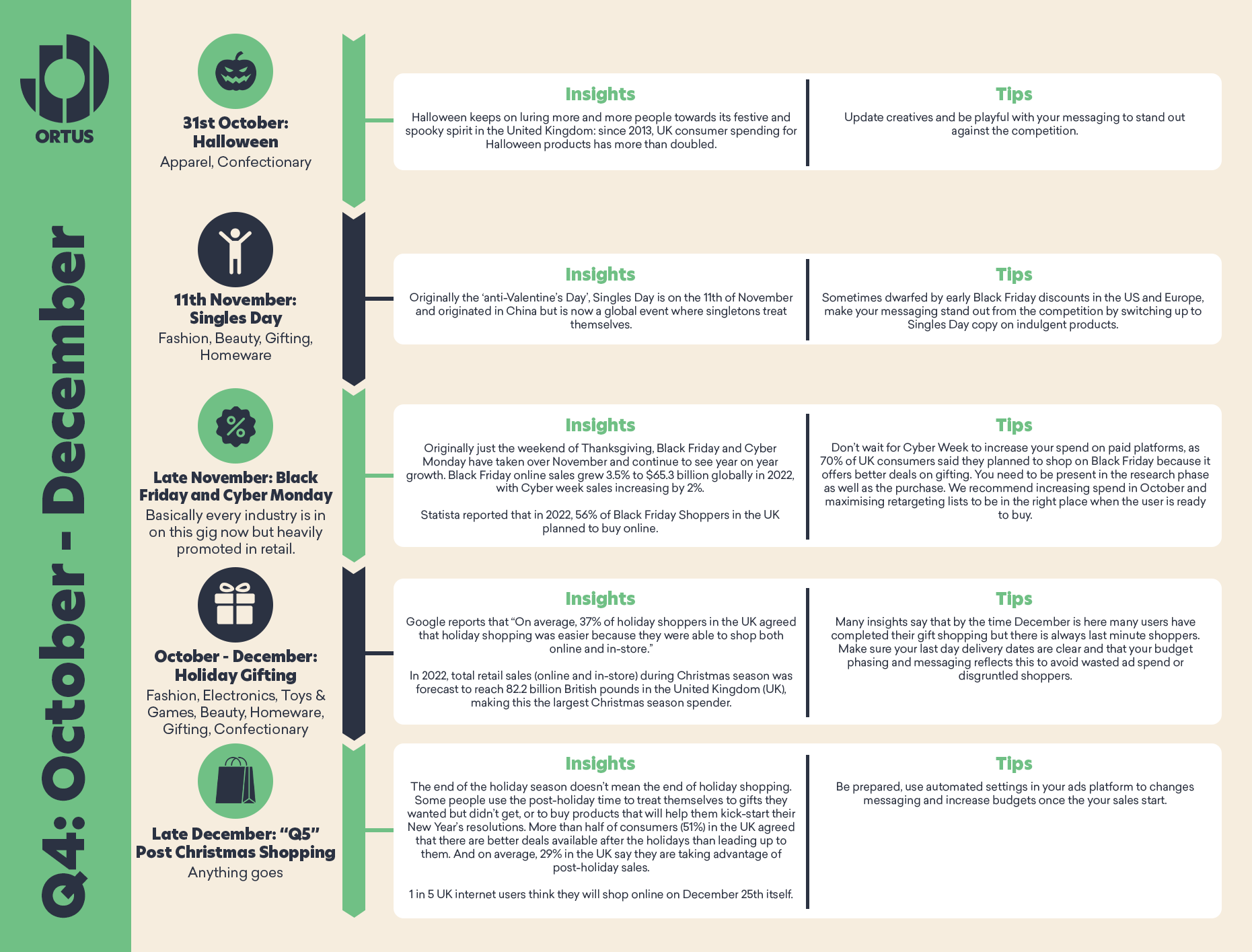 Key Takeaways

Q4 is packed with key dates to capitalise on including; Halloween, Singles' Day, Black Friday & Cyber Monday, December holiday gifting and post Christmas shopping.
Insights
Halloween keeps on luring more and more people towards its festive and spooky spirit in the United Kingdom: since 2013, UK consumer spending for Halloween products has more than doubled.


Originally the 'anti-Valentine's Day', Singles Day is on the 11th of November and originated in China but is now a global event where singletons treat themselves.


Once simply just the weekend of Thanksgiving, Black Friday and Cyber Monday have taken over November and continue to see year on year growth. Black Friday online sales grew 3.5% to $65.3 billion globally in 2022, with cyber week sales increasing by 2%.


Statista reported that in 2022, 56% of Black Friday Shoppers in the UK planned to buy online.
Google reports that "On average, 37% of holiday shoppers in the UK agreed that holiday shopping was easier because they were able to shop both online and in-store."


In 2022, total retail sales (online and in-store) during Christmas season was forecast to reach 82.2 billion British pounds in the United Kingdom (UK), making this the largest Christmas season spender.


The end of the holiday season doesn't mean the end of holiday shopping. Some people use the post-holiday time to treat themselves to gifts they wanted but didn't get, or to buy products that will help them kick-start their New Year's resolutions. More than half of consumers (51%) in the UK agreed that there are better deals available after the holidays than leading up to them. On average, 29% in the UK say they are taking advantage of post-holiday sales.


1 in 5 UK internet users think they will shop online on December 25th itself.


Tips
Update creatives and be playful with your messaging to stand out against the competition.


Sometimes dwarfed by early Black Friday discounts in the US and Europe, make your messaging stand out from the competition by switching up to Single's Day copy on indulgent products.


Don't wait for Cyber Week to increase your spend on paid platforms, as 70% of UK consumers said they planned to shop on Black Friday because it offers better deals on gifting, you need to be present in the research phase as well as the purchase. We recommend increasing spend in October and maximising retargeting lists to be in the right place when the user is ready to buy.


Many insights say that by the time December is here many users have completed their gift shopping but there is always last minute shoppers. Make sure your last day delivery dates are clear and that your budget phasing and messaging reflects this to avoid wasted ad spend or disgruntled shoppers.


Be prepared, use automated settings in your ads platform to changes messaging and increase budgets once the your sales start.


Q1 - January - March



Key Takeaways
Q1 is the promise of a new start for most, however when it comes to key dates for a retail marketer's diary, it offers everything from January sales, peak travel season, Valentine's Day, Mother's Day & Easter.
Insights
Non-store retailers, which primarily included online retailers, saw their sales volumes rise by 2.0% in January.


The proportion of retail sales online fell to 25.0% in January 2023 from 25.7% in December 2022; despite this fall, it remains significantly above pre-coronavirus levels (19.8% in February 2020).
26% of UK adults planned to book an overseas or domestic holiday in the three months following December 2022.


Brits are now looking towards cost-saving ways of organising their holidays, as shown by the fact that many travellers would be interested in all-inclusive holidays or discounts offered for booking far in advance.


52% and 48% planned to travel within the UK and overseas, respectively, in the 12 months following October 2022.


In 2023, Valentine's Day struggled to gain traction amid a cost-of-living crisis, spending was estimated to have fallen 19% year-on-year. Average consumer spending also dropped. Among those who did buy, 50% said they bought fewer Valentine's Day gifts this year because of financial concerns.


The top shopping destination to purchase Valentine's Day gifts is online (35%), just edging ahead of department stores (34%), discount stores (31%) — maybe best to keep that one quiet — and specialty stores (18%).


We're all softies for our mums - Despite over 60% of consumers in the UK feeling financially worse off in 2023, the spend on Mother's Day celebration has not been compromised. Consumers have viewed spending on this occasion as an essential, rather than a potential area to cut back on.

However, Mintel report 61% of consumers bought Mother's Day gifts on discount/promotion because of financial concerns.


Easter isn't just about eating as many chocolate eggs as we can manage, although around 80 million Easter eggs are sold in the UK each year. In 2022, spending on Easter celebrations in the United Kingdom (UK) reached 1.3 billion British pounds, according to estimates, growing from 1.22 billion British pounds estimated for 2020.

But Easter is also for travel, with kids broken up from school. In 2023, an estimated 6.3 million Brits will take a domestic holiday over the Easter weekend in the UK, down from 7.4 million people in 2022. Around Easter we typically see a 22% growth in unique page views for travel inspiration.


Tips
Maximise budgets towards the beginning of the month when sale stock is at its peak, spend typically decreases throughout the month as disposable income and stock dwindles.
Ensure your budgets are phased to capture the recurring demand in January for those post Christmas bookings.


Many users are looking for a great deal so ensure messaging is aligned and ad extensions are fully utilised to give users as much information as possible.


Try repurposing your products for Valentine's Day by including 'Valentine's' within the product title to capture users searching for generic Valentines Day gifting.


Try doing the same for your products for Mothers Day by including 'Mothers Day' within the product title to capture users searching for generic Mothers Day gifting.


If you have a wide selection of gifting options, create price point or category site-links to navigate your users to the right products more directly.


For confectionery and gifting, create dedicated P. Max asset groups and Social Ads to showcase your collection. Tap into users who converted last year and remarketing to them to repurchase this year.


Grab the attention of those last minute travellers, Easter is a peak period for budget travellers so make sure to align your messaging and audience targeting across your campaigns.
Q2 - April - June




Key Takeaways
Q2 is the quarter with the least to offer in terms of key dates in the retail calendar, however, there's still opportunity to capitalise on events like Ramadan and the Summer Bank Holidays of May.
Insights
Despite predicted cutbacks in spending, a recent survey found that there is still scope for brands to launch successful Ramadan initiatives, with 24% of British Muslims open to trying new brands and products this Holy Month.


Less than half (44%) of UK Muslims would describe themselves as brand loyalists, while 31% say that they spend time looking for the best deals before purchasing in order to get the most value for money.


When it came to spending on Eid gifts, 42% were expecting to pay less than £30 per person on Eid gifts with 61 per cent describing the outlay as lower than last year.


According to GlobalData's UK consumer survey for July, 50.2% of consumers agree that bank holidays encourage them to increase spending on social activities. A significant 70.1% of consumers believe that shops should do more promotions around bank holidays.


Tips
Create a dedicated gifting landing page to direct users towards using dedicated messaging.
Tap into Interest audience groups to ensure your ads are showing to your target audience.
Check out our blog last year on how to maximise performance in short peak periods.